So. Hip-hip hooray!!! Ben from Balcones PC came over and fixed the latest Trojan Horse infection on my computer, and he showed me how to post pictures while he was at it.
This infection was as serious as the last, but it was caught before doing any real damage. Someday the computer geeks will develop a condom to prevent Trojan Horse infections. Meanwhile, I'll use this posting to put up some pics for you. Wish me luck. I'll attempt to put both pictures and info both.
The Squirt is in my lap and Yoda is sitting on my mouse pad.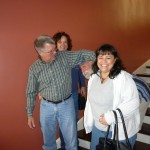 That's Bob from Squatlo, Michelle the Reckmonster and future 12th Fiance, BJ from Uo-original Thoughts in Bob's arm pit, and the most dangerous Cindy in the rear.
OK, look.  This is a new toy, as is my camera, and all of my pics of the dogs are sucky.  I'mma attempt to get better pics and post them.  I'll try to not drive you nuts with pics of my babies.  Now I'm drinking me some Carta Blanca beerskies!