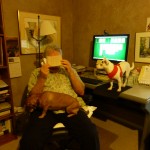 So. I'm thinking a little straighter and feeling better for it. Don't get all concerned that my ADHD has suffered a miraculous cure and my brain ways are cleared of confusing thoughts, I'm talking about my posture. I discovered that I was slouching a lot recently and it has made my back and major joints ache. By joints, I mean hips, shoulders and elbows rather than my "joint"[.] My joint could care less if I slouch or stand in full military Parade Rest, he can stand at attention either way.
And while I'm at it, why, oh why, won't the grammar police tell me the method—and a reasonable explanation thereto—for how to punctuate after a set of quotation marks when the substance placed between them isn't an actual quote? Like I did back in that last paragraph with the [.].
By sitting up straight-backed, I have brought some relief to the many aches and pains caused by my slouching. But I can't pay attention to remember to not slouch, so I sit properly for a few seconds then slouch, remember to not slouch (or feel an achy twinge in my shoulder), and think to sit up straight once more.
OK, actually not just once more, since I do that straight/slouch/straight business a dozen times per minute. A video of me at this silly fucking keyboard, run in fast motion, would show me as a puppet whose strings were pulled by a jerky drunk.
Which reminds me. First, please allow me to say that I do not like Tim Tebow, Sam I. Am. I like nothing about him. I do not like him in a truck, for a buck or worth a fuck. I'm sure he's a fine young man and all of that, but I simply don't care shit or Shinola about him. But there is this thing that Christians do that at least to me, speaks of all that is wrong with modern American Christianity. The thing is the act of only thanking God when something the Christian thinks is good happens in their life.
Like, "I want to thank God for giving us this win," a string of words uttered by the Tims'ter after every football victory. Innocuous words at first look, but sinister in actualities. Here's why.
Evangelical Christian pastors, leaders and "Prophets"[.] (there's another of those dealies I need the grammar police to help with) use "The power of God to make your life better" as the central thematic device in their sales pitches. They likewise attempt to get their followers to believe that "all good things come from God"[.] (another grammar dealio)
To garner a full understanding of what I'm speaking to, think back on every public prayer you have ever heard, or made. In each, God is thanked for all the blessings He has bestowed recently, and then He is asked to provide future blessings for a wish list of the prayer's wants.
Right?
This "God gives all good" theology permeates church sales pitches and is used as the basis for the brain washing of their flocks. But I have an intrinsic problem with this modern American Christian dogma. I think it is impossible for God to only be responsible for good things. I know I'm not the first to say this, I've heard it before. I just haven't bitched about it here and I'm pissed that Tim fucking Tebow has become the model of Christian masculinity for taking on this mantle.
Let me stop the presses for a minute. My ADHD has been super-charged with this issue. I have a thousand thoughts about this and I can't make heads or tail of them.
Squirt and I settled a debate this am as to whether she should go to the vet to remove the two broken teeth she has. The same two broken teeth that caused the infection in her mouth that is a third of her three-way infections. That's the infections of anal gland and tooter we've been talking about.
The nasty teeth give her the worst bad-teeth breath you can imagine, and I've been trying to get her to have them pulled for months. The teeth broke off because I'm a bad father. See, Squirt loves beef bones and I gave her little chunks of cow arm bones that I would personally saw into Squirt-sized rings. I herein freely admit that I gave her these bones not only for her delight, but also to help cement her devotions to me. My heart wasn't pure. I'm the parent, she my child, and it's my fault and not hers that she broke two teeth from chomping those bones, and developed trench mouth.
She's had a little pain with the teeth but not enough to face extraction. As she puts it when I suggest a trip to the vet for dentistry, "Fuck you, Mooner."
But, if you read yesterday's posting, you know that in cold weather we sleep with the dogs cocooned inside a thick goose down comforter. It was extra cold last night, so Squirt asked me to get her her extra snuggly. When I finished tucking her in, she was only somewhat more loosely rolled into the blanket than the filler of a fine Cuban cigar.
I love good Cuban cigars. Why in the ever-fucking shit do we still have a hard-on for Fidel Castro? American politicians have managed to forgive and forget every… fucking… asshole in the world over the last fifty years, yet we still put Fidel's balls in the blender. Cuba is a beautiful country filled with incredible people, and America has been punishing those people for decades because Fidel Castro is an asshole.
Jesus Christ people, the Shaw of Iran was an asshole. The list of assholes that we have actually kept propped-up would fill these pages, yet we still torture Cuba because Fidel is an asshole. End the fucking Cuban embargo, for shitsakes.
Early this morning, 4:41 am to be precise, I was startled awake.
"Holy Jésus ce n'est que l'odeur? Hat jemand Scheiße im Bett?" It was the Squirt as she fought to get herself unwrapped from the covers.
"Nobody shit in bed, little lady, you just got trapped under the comforter with your own bad breath," I told her. "Now you understand why I turn my head away from your formerly-sweet kisses."
"Call the vet, Mooner, and right fucking now!"
I must admit it's unsettling sometimes to hear the potty mouth on my sweet puppy. It's also deliciously funny at others.
"I'll call first thing and see if we can get you in," my answer. I did, we could, and she's at the vet right now getting extractions. She'll need to be on a soft food diet for a week after I get her back home, and I can already hear the seven days worth of bitching coming my way over that.
When I dropped her off, I reminded Dr. May that he promised to think about Rick Perry's request for a sex change operation. After he stopped laughing he said, "You mean you were serious about making your ostrich into a girl?"
"Oh, for shitsakes, doc. This isn't my idea, it's his."
Again, I think Dr. May might still be laughing.
OK, so let me tie this together for you. If the modern American Evangelical Christian theology was one of honesty and integrity, here would be my official prayer for today:
"Dear God, Maker of all good and bringer of all evil, I want to thank you for showing to Squirt the light and getting her to agree to the teeth extractions. She will be far better off and the rest of us won't be subjected to her foul breath. I also want to thank You for teaching me to sit up straight and for the incredible sausage that Mr. Jones makes. Nothing goes better with runny eggs at breakfast than Mr. Jones' sausage and a slice of great toast for sopping. Thanks as well for Gram's health, undeserved as it might be, and thanks, I guess, for my mother as well. I'm very grateful that you let me finish my silly fucking book, and since You seem to be so accommodating, why not make it a best seller? Please make millions of people look over there ===}}}} to the Full Rising Mooner linkster buttons, and make click to buy my book. Thanks for my pets and family and friends, and thanks for letting me have so many fabulous Internet buddies. Thank You for these and all the many blessings You have bestowed upon me.
"And while I'm here, could you please explain why You decided to give me the worst case of diagnosed ADHD in history? What the fuck did I ever do to You to deserve that shit? You know, sometimes You can be a real asshole. And this dealie with the Squirt's teeth. It isn't enough that You make me a bad parent. You then feel compelled to make the poor innocent dog suffer not only through my bad parenting, but You also seem it fit to give her a three-way infection? What's up with that shit? And this entire thingie with Cuba. WTF? Why do You punish the the entire Cuban population just because Fidel Castro is an asshole? Would Jesus approve of that? Does Your Son condone those actions? I think not.
"I mean really, what goes in in that all-encompassing mind of yours sometimes? Famine? Wars? The Kardashians? Really, the fucking Kardashians? I'm starting to think You need some psycho therapy. I'm beginning to think you've got issues. How about I get You an appointment with Dr. Sam I. Am-Johnson. Hell, I'll pay. Which brings up another set of complications. In therapy, a person learns that his problems are either/or self inflicted, or they are caused by an outside influence. Since you decide all things good and evil both, and You make every fucking thing that happens happen, who are You going to blame for the mess You've made of things? Your Mother? How in Your name are you going to get any better?
"Get Your shit together Big Guy, You've made a real mess of things. Amen"
I hope Mother doesn't read this. She really will have trouble explaining that prayer to the church ladies. But like Gram always says, when she'll say, "Who gives a shit, Mooner. Ya said what cha think, and that's that."
Manana, y'all.