So. I'm sitting here at my computer wondering what to say. It isn't that I have nothing to say, it's that I have too much to say and I lack priorities. OK, I have priorities but my priorities have no propriety. My ADHD-addled brain organizes shakily at best, sloppily as per usual and occasionally—as Squatlo likes to call it—bat shit crazy.
When I've got the brain fritz, even I can't sort through the smelly swill that boils in the cauldron I call my brain. Every one of the twenty independent thought strings starts to mingle and mate with the others, and the end result could be imaged in the opening of my book trailer. Go to this linkster and watch it really quick and then come back.
http://www.youtube.com/watch?v=WTQpyvkh8Fs&feature=youtu.be
That swirling, ratcheting and jerking of images in the first scene is how my fritzy brain thinks. And isn't that a lovely promotional ad for my book? And the MRI sequences next to the end are mine. That MRI was made the time I was pitched into the Shoal Creek Loony Bin after my second arrest for murder. The main murder in the book.
That MRI imaging is from after they had me stoned gourdless on Haldol. I fucking hate Haldol but my brain isn't on full fritz when they put me on it. Haldol has wicked side effects. All of those psychotropics do. One of the side effects of Haldol for me is that my pecker dissociates itself from me. It's like they cut my real pecker off and sew a remote controlled pecker in its place.
It isn't like I have no feeling in my pecker, it's that there is an interruption in the flow of electrons through my central nervous system. Things happen with my pecker that I know should happen, but my brain doesn't register accurately or in a timely fashion. A perfect example is that I'll think to myself, I'll think, "I need to pee," and then realize that I just finished peeing.
But my thoughts don't race and I lose all passion for the natural instincts of flight-or-fight, self preservation, and procreation. That's why they give us crazy people Haldol. To control us.
I know this one man who likes Haldol as a recreational drug. That is one seriously fucked up individual. He can have all of mine.
Which reminds me. Justine just told me that there is a typo somewhere in the book trailer. Be the first to make a comment on precisely where it is, and I'll send you an autographed book. Maybe there is more than one error and I'll give away extra books.
Which reminds me that I wanted to tell you that Rachel and Nathan came out to the ranch yesterday afternoon to film a reading from the book. The film will be edited into a video you can download or link to view, and you'll get an entire chapter for free. There are 44 total chapters, so you'll get almost 3% for free!
I'll let you know when it's ready.
Haven knows what I mean about Haldol, I bet. She has bipolar disorder. Most bipolar persons hate Haldol as do I. Haven has a great site on which she discusses her life with bipolar disorder. Her linkster is:
http://downwardspiralintothevortex.blogspot.com/
Anyway, I'm bat shit crazy and ready to pull all of my hair out. I dropped the dogs and the fucking cat off with Dr. Sam I. Am-Johnson when I went to my morning psycho therapy session. She wants to spend the weekend with the animals to monitor their mental well being. My therapist is worried that I'm on the verge of pulling a stupid stunt and getting into trouble.
Well fucking duh. I haven't been arrested for several months and the last time I was slapped was right before Thanksgiving.
Which reminds me. The anti-abortion protesters haven't been hanging out at the Planned Parenthood offices lately. That's when I was last slapped. Catholic anti-abortion lady slaps me routinely when I show up with my anti-antiabortion protest sign. This is the latest of my signs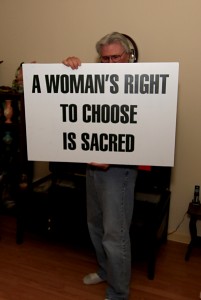 The other side says, "I'm an abortion and I'm OK." That photo was taken in BJ's house at the big BlogCon2011 convention. That's me that you almost see holding the sign. I cause quite a ruckus when I show up to anti-protest. Isn't ruckus a neat word? And why do I have tears in my eyes? I think I miss BJ and the guys.
I also think Dr. Sam I. Am is worried that I need chaos, that I seek situations wherein I get in trouble. I know she's wrong, but appearances say otherwise.
Ugh, and fuck it. I'm having a Carta Blanca beer. Manana, y'all.